Badger Basketball Recruiting
August 11, 2004
Here is a bunch of info on the three latest Badger basketball recruits: Phillip Perry, JP Gavinski, and Marcus Landry:

Phillip Perry-6-2, Combo Guard, Maywood, Illiois

Ratings: Rivals #102, #28 Shooting guard, #5 in Illinois, Youthprepstar #98
High School Elite Profile
Phillip Perry Closes Out His Recuitment-IlPrepBullseye.com
Badgers land 6-2 guard from Chicago for 2005-JSOnline
Illinois Prep Commits-WSJ

JP Gavinski-6-10, Center, Wisconsin Dells

Ratings: HoopScoop #131, PrepStar #3 in Wisconsin
Fox Valley Skillz Profile
Dells star Gavinski commits to UW-JSOnline
Dells' Gavinski commits to Badgers-Cap Times
Insiders Gavinski Review

Marcus Landry-6-7, Forward, Milwaukee

Ratings: Insiders #20 PF, Youthprepstar #69
Landry Photo Gallery-BadgerNation.com
Vincent's Landry commits to Badgers-Cap Times
Source says Landry to Badgers-WSJ
August 8, 2003
August 6, 2002
June 14, 2002
April 9, 2002
The Badgers basketball team received two verbal committments today. Senior Marcetteaus McGee of Chicago and sophomore Greg Stiemsma of Randolph are the two newest future Badgers.
Wisconsin Lands Senior Guard & Sophomore Center -Bob Gibbons All-Star Report
Chicago guard, Randolph's Stiemsma pick UW -Cap Times
Ryan reels in a big catch-JSOnline
McGee Profile-HoopConnect.com
McGee High School Elite Profile
Badgers recruit a basketball gem-Racine Journal Times
McGee Article-Web Sports Chicago
Nike Camp Point Guard Evaluations-UNCbasketball.com
Randolph's Stiemsma says yes to UW men's basketball team -Wisconsin State Journal
Stiemsma's sophomore conference stats
November 1, 2001
Wisconsin received its 4th basketball commitment for next season as forward Jason Chappell gave his verbal commit today. For more...
August 24, 2001
More hoops news!
The Badger basketball team also landed a player for the second day in a row, this time 6-5 forward Alando Tucker of Joliet Lockport, Illinois (the same HS as Ty Calderwood).

According to SuburbanChicagoNews.com...

Tucker, a human highlight film night in and night out, averaged 21.4 points and 5.9 rebounds last season. He shot 48.4 percent from the field and .785 from the free throw line.

He can score inside and outside and projects as a wing player in college.

Tucker is ranked as the #6 player in Illinois according to HighSchoolElite.com




SuburbanChicagoNews.com

More on Tucker...

Big Ten Appeal-SuburbanChicagoNews
Alando Tucker-HighSchoolElite.com
Alando Tucker-Illiniboard.com
August 22, 2001
Basketball recruiting news!!!


Wisconsin and Coach Bo Ryan have reportedly received their first verbal commit of the year in wing forward Ray Nixon of Whitefish Bay Dominican. Nixon is a top 100 player nationally according to Hoop Scoop. Here is some more info on Ray....

Dominican's Nixon gives UW his word -JS Online




Playground Warriors

This on Ray from SoCalhoops.com Ray Nixon (6'-7" Jr. F) Dominican HS, Milwaukee, WI--Nixon is a multi-dimensional athlete who can play any position on the court at this level, because he can block shots, rebound, beat you off the dribble with his quickness, handle, pass, and shoot the three. He isn't as big as Antoine Walker was at the same stage, his court demeanor and style of play reminds me of Walker's . I also am intrigued by the fact that a lot people from Wisconson are overlooking this guy. As a result, we went back and watched Nixon play several more times. And the last time he was the guy who brought the ball up the court and started the offense. He also is a big-time athlete and plays with a lot of intensity. So write him down as one of the biggest sleepers in the class, as well as a legitimate top 50 junior nationally.
July 22, 2001
On the BadgerBoard yesterday Hagrid posted a link to a post on the Bob Gibbons website ( Bullseye Board) that gave a nice possible synopsis of the basketball recruiting situation. Normally, I would just link to the post, but since it will only have a finite life over there, I thought I would repost it in its entirety:
We hear that Coach Bo Ryan wants to go big, but if he goes the "best player available route", that will put 6'5 Dan Grunfeld from Milwaukee Nicolet in the picture, but Grunfeld has Tennessee as his early leader. 6'10 Tom Howland from Normal West, IL was at one time being looked at, but we hear he has "slipped" to mid-major recruiting. The player we keep hearing is 6'6 Ray Nixon from Bayview, who we think is one of the most underrated players in Wisconsin. 6'9 James Augustine has long been out of the running. Another kid we hear the Badgers are really high on is 6'8 Wes Wilkinson, whom we loved at NIKE. However, he is close to committing to Nebraska or Kansas from what we hear. If he waits until spring, that could get the Badgers in the hunt. To be honest, Ryan inherits a huge problem with this "shoebox scanadal" which could adversely affect recruiting for his first two seasons. Next year, he is certainly zeroing in on 6'11 Brian Butch from Appleton and 6'8 Torrie Johnson from Milwaukee Juneau, to name a few. Two pretty darn good juniors!
July 20, 2001
Mike Lucas: Ryan hits recruiting road at full speed -The Cap Times
July 10, 2001
Badgers Offer Butch-Wisconsin Preps
July 6, 2001
Wisconsin being left behind in recruiting race -ESPN.com
June 26, 2001
Helmigk Already Impressing Badger Teammates -Inside Wisconsin
June 19, 2001
More reaction to the WBCA All-Star Game:
Area players impressive in WBCA all-star games -Cap Times
June 18, 2001
More on the NCAA and some of the problems with rule compliance can be found at Plethora of rules confuses many in NCAA -Badger Plus

Over the weekend Latrell Fleming, Devin Harris, and Clayton Hanson played in the Wisconsin Basketball Coaches Association all-star game at the Kohl Center.

Fleming, to the surprise of some, stole the show from more highly touted recruits Devin Harris and Travis Diener (Marquette). A summary can be found here:

Fleming bonds with future fans at WBCA all-star game -Badger Plus

Harris however really shined in the workouts leading up to the game and looks to be a player that will be in the rotation immediately as a true frosh.
June 17, 2001
Cornett's Dandy Dozen -School Sports
May 4, 2001
PrepStar has an updated list of the top 300 high school senior basketball players. For the complete list, follow the link. Otherwise, here are the notables:
37.) Quemont Greer-DePaul

43.) JaQuan Hart-Michigan

71.) Travis Diener-Marquette

97.) Michael Southall

101.) Stanley Asumnu-undecided, Wisconsin, Oklahoma, prep/juco listed

131.) Devin Harris-Wisconsin

136.) Chris Charles-undecided

201.) Deonte Tatum-prep school

203.) Latrell Fleming-Wisconsin

221.) Neil Plank-Wisconsin

240.) John Chappell-undecided

245.) Drake Diener-DePaul

287.) Clayton Hanson-Wisconsin

BEST OF THE REST-Kamarr Davis-JUCO

BEST OF THE REST-Andy Grunst-Butler

BEST OF THE REST-Pat Rodgers-undecided

BEST OF THE REST-Matt Rohde-UW-GB

BEST OF THE REST-Joah Tucker-Bradley
April 26, 2001
Badgers target Brown Deer star-Badger Plus
April 24, 2001
Penalties put Ryan on hot seat-Badger Plus
Reedsburg's Hanson to walk on at UW, join Bo Ryan-Capital Times
April 23, 2001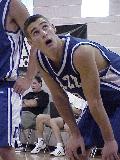 Reports on the BadgerBoard are that former UW-Milwaukee recruit Clayton Hanson from Reedsburg will instead walk on at Wisconsin. As a scholarship player, he would be an iffy Big Ten recruit. However, as a scholarship players he has a nice potential upside. Here is some more info on Hanson.
Hanson Verbals-Insider's Report
Reedsburg's Hanson On A Level All His Own -Ihigh.com
Ryan's recruits brighten Panthers' forecast -JSOnline
Clayton AAU Reference -Las Vegas Review-Journal (bottom of article)
Hanson Profile-High Major Hoops
April 19, 2001
UW hoops grabs top players -Badger Herald
April 13, 2001
A pic and (very brief) profile of Badger recruit Neil Plank can be found here. (Credit to Raging Boston Badger).
Tosa East star signs with UW-BadgerPlus